On Saturday, September 7th, 2019, a group of like-minded individuals met at the Stewart's residence, aka herbalgods Headquarters, to share ideas and our hearts with each other. Little did we (Dwight, Richard and I) know that that day would have been the start of something amazing for the three of us together. As we were saying our goodbyes, Dwight expressed his need for an additional person to assist with other areas of the business. [Richard was already assisting in some areas.] While I was busy taking photos, a mutual friend called me over to the conversation and as Dwight kept talking, it was a no brainer that I was indeed that person. Dwight is like a brother to me and he's had experience with my work ethic and what I can bring to the table thanks to our Focus Media days. A no brainer, indeed. As Dwight's thoughts became sounded words to our ears, there I was combining his sounded words with my words that had no sound as yet. His ideas birth ideas of my own and my blue "I'm a teacher. What's your superpower?" notebook became my 'ideas' Bible. At that point, I had a feeling that I would not be leaving the headquarters just yet. So said….so done. Myself, Dwight, Richard and another good friend of ours had one of the most epic and meaningful talks I've had the pleasure of being a part of. Something special happened that night and we left knowing that we were now on a journey that's going to lead us to changing the world. #issajourney 
            During the following week, Dwight and I were sharing ideas and just following up with some of that night's conversation. Then, on Monday, September 16th, 2019 at 9:59am, he sent me this text . 

Remember my 'ideas' Bible? In that Bible, I wrote down a list of places where herbalgods should have a space and farmers markets was one of those spaces.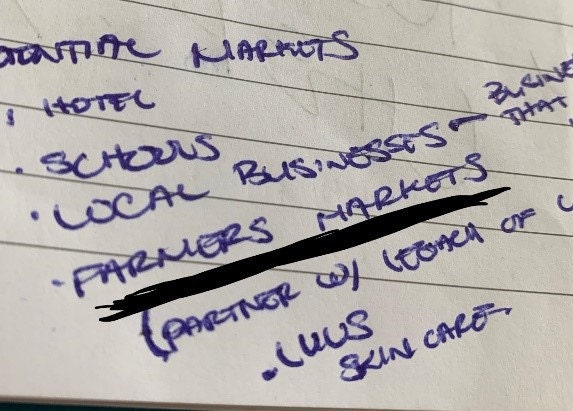 That was a special moment for me because it meant that we were on the same page and that the ideas that I have weren't too crazy. It was a moment of validation. There we were, my excitement and I. We wanted to start researching farmers markets in that very moment but I had to wait. As soon as that moment came, my fingers met my phone and they got busy.  
             I like to research so that part was simple, but it was certainly tedious. I mean…the search was ON! Instagram's search box, hashtags relating to farmers markets, Eventbrite, Google and a number of other spaces on Bill Clinton's internet became my best friend. Through the search, some dope markets that fit our style and brand were found. As I started going through the vendor applications, I saw that most of them required a photo of a display of our products. We didn't have a photo of a display of our products because we've never set one up before. So, I started to focus on the applications that didn't have that request. I submitted a few and I didn't hear anything for a couple days…a couple weeks. I filled Dwight and Richard in on what was going on. Collectively, without even saying it to each other, we knew that we wouldn't let the wait discourage us. During that waiting period, Dwight said, "What do you think about us doing our own?". Excitement ran through my body…I was definitely on board for that. Less than two hours later, I was going through IG stories and saw Dwight, the amazing craftsman that he is, creating what is now our famous display table for our very first and very own market.   
PREPARATION.EXCITEMENT.ANTICIPATION.ANXIETY. 
The greatest of these…EXCITEMENT. The date was set for October 12th, 2019. The location? Where else but HGHQ [herbalgods Headquarters]. As preparations began, I received a call from an organizer of a MAJOR event that I applied to. We wanted our faces in that space – a space that would be filled with thousands of people. After talking with the organizer for about an hour, we got in! This was a major win for us! We went into October 12th, the day of our own market, encouraged.  
         October 12th, 2019 will remain an important day in our company's history. It's the day that we realized that us three were meant to be. It's the day that we chose to create a lane for ourselves. Thankfully, since then, we've connected with other brands that want us to be a part of their lane as well. Since October 12th, 2019, we have done 7 events, one of which being the Seed Food & Wine Festival. THAT DAY! Woah! It was incredible. If you follow us on IG, you would have seen some of the incredible individuals we met. We'll go a little deeper in another blog entry about that one. 😊 That's not the only place that was special to us, though. Every event that we were a part of, something happened that confirmed that we should be there. The support that we have received by way of words of encouragement and sales, the people we have connected with and the lives that we have changed have meant so much to us. 2020 is going to bring so much more of those opportunities and we are buckled up for this journey!       
Blog Contributed by: PetaGaye Anika Whyte,
herbalgods, LLC